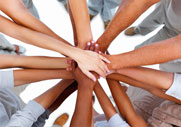 We firmly believe that the 'TEAM' – us AND
you – will always achieve more together
We take a slightly different view to most other firms when it comes to the 'TEAM'. You see, our view is simple: the TEAM comprises of US AND YOU, not just us.

That's why we work so hard to build a solid relationship with you and all our other clients. It's what helps set us apart from all other accountancy firms.

In fact the TEAM ETHOS we work to is the key ingredient in forging a successful relationship with you.

Mike Loughton

I get a great deal of satisfaction from helping you develop and grow your business to be Successful.
Having established Sir Tax Accountants in 2004 I fully understand the challenges of starting and growing a business. It is important that I get to understand you and your business in detail so I can inspire you, console you, cajole you, and help you to achieve the goals and ambitions you desire.
Being married with two fabulous children, my family give me all the inspiration and desire I need to continue to build a better and more prosperous future.
As a keen sportsman I have achieved awards in cross country running, football, water polo and more from a young age. I still harness that drive and determination to help and support you to achieve success in business.
So go ahead. Request your FREE meeting today. If you're still undecided, watch this video first and then enter your details in the form on the right of the page, or phone us direct on 0333 567 0320.